Born February 6, 1931, Eugene 'Clem' Metz was originally from Chicago. His mother and father both had worked at the Boardwalk in Chicago during the Al Capone years, and had in fact served Capone (haircut and manicure). Clem died April 26, 2011.
Clem came with his family to Cincinnati at 16 years old, that is when his pool game really took off. He was just a couple of years younger than Cincinnati's Joey Spaeth and Donnie Anderson, and the three of them began to play and travel together. As Donnie recalled it, they were traveling as far as Oklahoma by bus even before any of them had a drivers license. "Me and him (Clem) and Joey Spaeth. Joey and Clem were the same age and I was a year older. We would go down through Kentucky and Tennessee and Indiana and Chicago and Detroit, and whatever. We had pretty much of a schedule, but then we all broke up and everybody went their separate ways. I got drafted and went in the army when I was twenty-one and I stayed in the army for seven years. One or the other, we always went on the road together."
In the beginning, 9-ball was Clem's game, but at some point when they were still young, Hayden Lingo spent time in Cincinnati and Clem learned a lot from him. Pretty soon One Pocket became his best game and he developed a reputation as a very knowledgeable player in his own right, with a smothering defense being his biggest strength. One of his contemporaries, Sonny Springer put it this way, "Clem always used to make the remark that he'd 'stick all those hurricane players in the s**t house.' (Referring to more aggressive one pocket players like Ronnie Allen) You just wouldn't get a shot; that's about what it amounted to. He was at that time considered the best in the world."
Clem also played excellent cards – poker, gin and other games and he gambled at those games too. But even as a mature player he would practice pool for hours at a time – he loved the game.
His son Donnie went on the road with him for a couple of years after Donnie graduated from high school. "Clem would travel to where he thought he could make money. He would get a phone call from someone who had a spot for him. He often played the part of a sucker – like a businessman – he even had fake business cards and a briefcase, etc. Sometimes it was pool; sometimes it was cards. He had a manner that people liked and trusted. He knew influential people both in the underworld and in the straight world."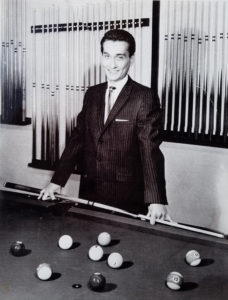 Clem had a strong survival instinct. He got robbed different times after he won. He also got beat up sometimes. As Donnie Anderson put it, "He's got more nerve than the law allows. Me and him went down to Harlan County, Kentucky years ago. That's when they used to wear guns on their hips, and put rifles up in the cue rack. Everybody had a gun and everybody had a rifle. So he's in action with this big hillbilly and he's beating him, and the guy looked at him and told him, 'If you do that one more time, I'm going to kill you.' I called Clem over to the side and said, 'Give me my money; I'm gone.' So I got my half of the money and I left because Clem, he just didn't seem to realize – I always predicted, he'll never live past 26. Now I'm 77 so he's 76!"
Freddy: "The two toughest guys to play against were Artie and Clem. Clem was maybe the safest player ever. I would have liked to have seen him and Artie play, the game may never have ended!"
Howard the Jockey: "I had seen him playing Eddie Taylor in Johnston City, and they was playing One Pocket and Taylor put Clem in a trap. Of course, Clem took a scratch. So Eddie took one and now Clem took another scratch, and another one. Back then they didn't play no three fouls. Eddie got so mad he knocked all the balls off the table and quit because he (Clem) just kept taking scratches."